Refugees from Rafts to Riches

By RUTH DE NAULT
The South Vietnamese, largely educated and professional people, fled their Communist-conquered country often on rickety rafts became one of the most successful immigrant communities in the United States. They and their offspring now number 1.6 million. Nearly 10 percent reside in Orange County.
Four hours after Frank Jao landed at Camp Pendleton Marine Base in 1975 with 130,000 other Vietnamese refugees, he was selling Kirby vacuum cleaners door to door in Garden Grove, California. With $50 in his pocket, Jao saw great opportunities arising in Westminster for low-cost realtors who spoke Vietnamese. So in 1976 he obtained his real estate license and earned $40,000 in commissions in his first year. Then he turned a strawberry field into a 50,000 square foot strip mall.
Little Saigon considers Jao its builder. His Bridgecreek Group developed over four million square feet of property, built The Asian Garden Mall with over 300 stores, the Asian Village Center and other centers. He now is investing in Vietnam and Asia. Jao's dream is to make Little Saigon an ethnic tourist attraction for visitors from nearby Disneyland. Today it draws 300,000 visitors each year, mostly Vietnamese.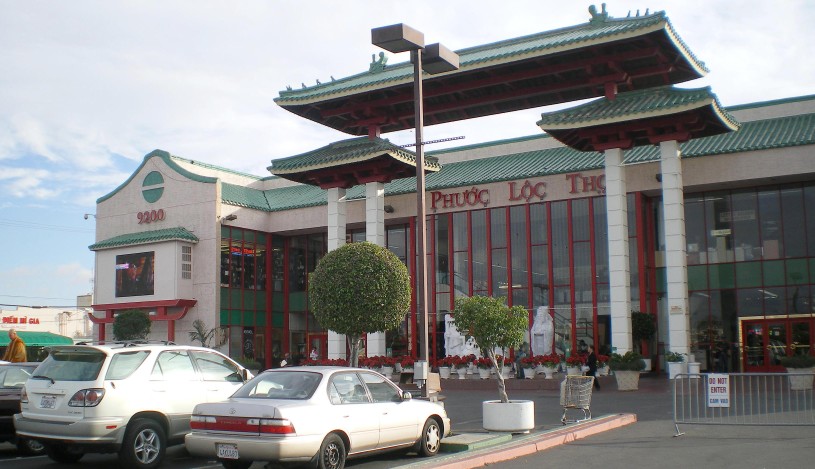 Photo Quy V. Ly
Little Saigon's Heart: The Asian Garden Mall,
also known as Phuoc Loc Tho
Tony Lam, a former official in South Vietnam's Ministry of Agriculture, arrived with Jao in 1975. At the age of 59, he became refugee camp manager at Camp Pendleton and then an insurance agent on Bolsa Avenue, now the heart of "Little Saigon".
"Old Saigon is no more, the Communists have seen to that," said Lam. "We wanted to create something here in America that will remind us of who we are." Bolsa Avenue with its authentically Vietnamese atmosphere, its Chinese and French Colonial architecture, its restaurants and bakeries remind visitors of the best of their homeland, and offers every service that they require.
The Vietnamese community reached to Garden Grove, Stanton, Fountain Valley, Anaheim and Santa Ana as new immigrants arrived and started thriving businesses.
Lam won a seat on the Westminster City Council in 1992, the first Vietnam born person elected to political office in the United States. He was active in the Vietnamese Chamber of Commerce in Orange County, civic clubs, and owned the Vien Dong Restaurant in Garden Grove.
But then came controversy. Riots broke out in 1999 when a video game store displayed a Ho Chi Minh poster and Communist Vietnamese flag. Residents were furious when Lam refused to join the protests, on advice of city attorneys. His effigies were burned and his restaurant was picketed for months, labeling him a communist sympathizer. Lam's legal defense was costly, but he refused to resign and served on the city council for ten years.
Danh Quach, the landlord of the building where the riots started, served an eviction notice to the video game store tenant for creating a nuisance. After four days of protest, a judge ruled that the shop owner must remove the picture and flag. But a Superior Court judge reversed this verdict.
One hundred police officers escorted the shop owner to his business to put the flag back. He then filed a lawsuit against Quach, the police and the city for failing to protect his right to free speech.
In Saigon, Quach had been a pharmacist. When he first fled to America in 1975, he went to Arkansas in 1975. When he moved to Orange County three years later he returned back to his old business and expanding it. Quach's pharmacy soon sold electric appliances, bicycle parts and other supplies. In less than a decade Quach prospered greatly. He built up a business forwarding freight to Vietnam and also became a real estate investor. His son became a doctor. Quach downsized his pharmacy to make room for his medical practice.
*
At age 12, Yen Do was a journalist in South Vietnam with an underground high school newspaper in Saigon. He led protests against the government for better classrooms and scholarships and was suspended. He worked as a reporter and editor, and as an interpreter for American and French journalists. Then, in 1975, the Communists conquered South Vietnam.
Do and his wife were in the first wave of Vietnamese immigrants at Camp Pendleton in 1975. He asked American marines station there to donate books to a library for immigrants.
Next, Do found himself as a social worker in Arizona. Do learned that South Vietnam's new Communist rulers ruthlessly destroyed newspapers and books, and thus much of his country's eliminating history and culture. He resolved to educate the refugees to preserve their collective memory.
After saving $4,000, Do came to San Diego as editor of a monthly magazine, Hon Viet, the soul of Vietnam. His goal was to have a weekly newspaper translated from prominent English-language papers, and including stories affecting the life of refugees.
Do saw himself as a reporter looking for news to help refugees in their own language as they adapted to their new life. When he could not find a publisher in 1978, he became the publisher of the Nguoi Viet, which means Vietnamese People.
With family help, Do published 2,000 copies in his garage in Orange County. Friends would wear the four page newspapers on their clothing at church and pagoda entrances, on sale for 75 cents. Classified ads were $5.00. Leaflets with news of the border war with China promoted sale of the newspapers.
Nguoi Viet became the largest United States Vietnamese newspaper with 60 employees and a daily circulation of more than 18,000 when Yen Do died in 2006 at age 65. His eldest child, Anh Do, is the English section editor and vice president of community relations.
"Yen Do was instrumental in working on getting the community on the right track," said Lam, former Westminster city councilman and friend.
*
Saigon National, a Vietnamese owned bank was established in 2005, Kiem D. Nguyen, owner of a large supermarket in Little Saigon, as its head. He owns fertilizer and plastics businesses in Vietnam.
One year later, First Vietnamese American Bank opened. President Hieu T. Nguyen stated, "I want our bank to serve all Vietnamese communities in America and one day serve business in Vietnam, as well." One of its major clients is Paul Nguyen, a former officer in the South Vietnamese Army. He now owns a Garden Grove-based company supplying airplane parts. It employs 70 people.
Wrote the New York Times: " Now two new banks with investors and owners from the Vietnamese community have opened, indicating the rising prosperity of Vietnamese business in America and growing economic connections with a vibrant entrepreneurial sector back in Vietnam."
*
By 2006, cash remittances, and trade in goods and services between Vietnamese Americans to relatives and business partners in Vietnam totaled $8 billion.